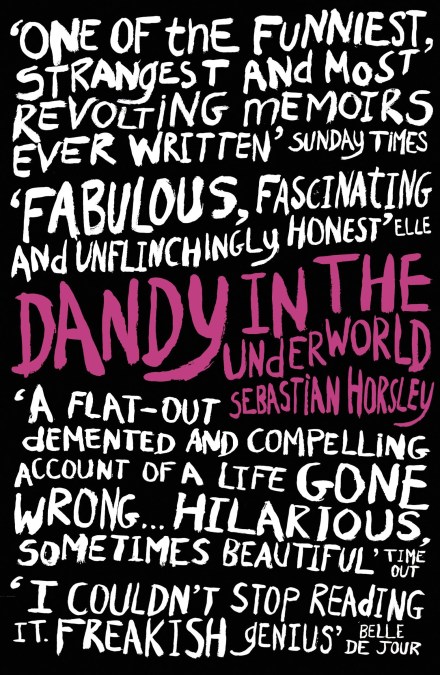 Dandy in the Underworld
This is the story of Sebastian Horsley's life. Growing up at High Hall, in Hull, with his alcoholic mother, who regularly attempted suicide, his stepfather, a cult member dressed in orange, and his father, a crippled millionaire, Sebastian Horsley couldn't wait to leave home. Searching for happiness, meaning and a good outfit he embarked on a doomed career as a punk guitarist, had a stormy relationship with a notorious Scottish gangster, enjoyed a wildly successful period as a stock-market entrepeneur and experienced a near fatal stint as a shark-hunter. Sebastian charts his years as a dandy, an artist, a male escort and a brothel connoisseur. There are the love affairs, with Rachel 1 and Rachel 2, and a harrowing descent into heroin and crack addiction. DANDY IN THE UNDERWORLD evokes his desperate attempts to get clean, culminating in his crucifixion in the Phillippines.

Sure to shock and surprise, Sebastian Horsley recounts his story with excruciating self-knowledge and a savage wit.
Read More
Reviews
'it is his family that make this eye-popping memoir compelling...incredibly funny'
one of the funniest, strangest, most revolting memoirs you're ever likely to read.
'The fabulous and fascinating story of the flamboyant artist/writer/poet growing up in a family of chaos, alcohol and insanity. Beautifully written and unflinchingly honest, this is a mind-blowing tale of a life out of control.'
'Consistently witty...Dandy in the Underworld is not for everyone but it is also funny, moving and the best book of its type since Lorna Sage's Bad Blood. If you can stand it, it is likely to be one of the most compelling reads of the year.'
It's great. For although very, very funny at times, it is also useful, and possibly important; which is all the more remarkable considering that the subject, while full of a self-love that makes Narcissus look like a wallflower, would scoff at the idea of his being useful and important.
'A flat-out demented and compelling account of a life gone wrong...hilarious, sometimes beautiful'
'[he] charts his diabolical decline and fall in rip-roaring style...a devilishly charming companion as he describes his wilfully deviant journey on the road to rack and ruin
'Dandy in the Underworld is a compulsive autobiography that tells the blackest truths in the jauntiest tone.'
'Like Salvador Dali's confessions, only far funnier and more self-deprecating, Dandy in the Underworld entertains as much as it revolts, is as tender as it is shocking, and as genuine as it is false.'