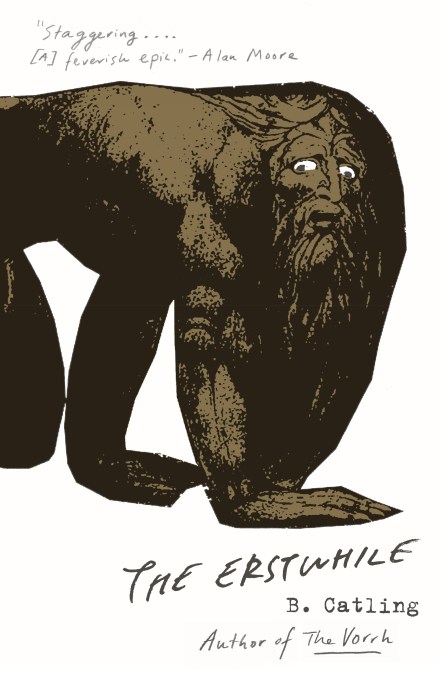 The Erstwhile
In the tradition of China Miéville, Michael Moorcock and Alasdair Gray, B. Catling's The Vorrh is literary dark fantasy which wilfully ignores boundaries, crossing over into surrealism, magic-realism, horror and steampunk.

The Erstwhile is the second book in the Vorrh trilogy.
Read More
Reviews
Brian Catling's The Vorrh blew me away (along with my ideas of what fantasy novels should do) when it came out in 2012. I've just finished the second of the trilogy - The Erstwhile - and it's even better. Set in London, Germany and Africa, the book features William Blake alongside its cast of monsters and adventurers. These are luminous and visionary novels - Gormenghast reimagined by Alan Moore on opium.
A fascinating world to get lost in.
The Erstwhile almost revels in its status as the hiatus between Genesis and Apocalypse. It applies the sleight of hand that many of the best middle-books do, for a shift of focus...Even in the most extreme moments Catling has an eye to the wry, to the momentous absurdity of just being a thing made of flesh in a world that is not. In something as fluorescently psychedelic as this novel and its predecessor, the reader still requires an affective hook; and in Schumann's explorations of why the past seems clearer to the elderly than the future, we get just that.
Brian Catling's great trilogy The Voorh, The Erstwhile and The Cloven are for me the most exciting literary fantasy novels since Peake's. Influenced by Raymond Roussel's surrealistic writing, it is full of images that won't leave your mind and is like Guillermo del Toro in print.