Lady in Waiting
'Remarkable . . . If your jaw doesn't drop at least three times every chapter, you've not been paying proper attention'
THE SUNDAY TIMES


'I couldn't put it down. Funny and touching – like looking through a keyhole at a lost world.'
RUPERT EVERETT

'Lady Glenconner's life story is a combination of royal magic, personal tragedy and resilient survival. With humour, courage and preternatural poise, she at last tells the story of her uniquely fascinating life.'
TINA BROWN

'Marvellous book . . . one's eyes were on stalks'
JAN MOIR, DAILY MAIL

'Anne Glenconner has written a remarkable memoir – containing, at last, a genuine portrait of Princess Margaret from one who knew her well. But this book is poignant too, and through the pages shine her courage and good-humoured acceptance of her demons and tragedies.'
HUGO VICKERS

~

The remarkable life of Lady in Waiting to Princess Margaret who was also a Maid of Honour at the Queen's Coronation – and is a character in The Crown this autumn. Anne Glenconner reveals the real events behind The Crown as well as her own life of drama, tragedy and courage, with the wonderful wit and extraordinary resilience which define her.

Anne Glenconner has been close to the Royal Family since childhood. Eldest child of the 5th Earl of Leicester, she was, as a daughter, described as 'the greatest disappointment' by her family as she was unable to inherit. Her childhood home Holkham Hall is one of the grandest estates in England. Bordering Sandringham the Princesses Elizabeth and Margaret were frequent playmates.

From Maid of Honour at the Queen's Coronation to Lady in Waiting to Princess Margaret, Lady Glenconner is a unique witness to royal history, as well as an extraordinary survivor of a generation of aristocratic women trapped without inheritance and burdened with social expectations.

She married the charismatic but highly volatile Colin Tennant, Lord Glenconner, who became the owner of Mustique. Together they turned the island into a paradise for the rich and famous, including Mick Jagger and David Bowie, and it became a favourite retreat for Princess Margaret.

But beneath the glitz and glamour there has also lurked tragedy. On Lord Glenconner's death in 2010 he left his fortune to a former employee. And of their five children, two grown-up sons died, while a third son had to be nursed back from a coma by Anne, after having suffered a near fatal accident.

Anne Glenconner writes with extraordinary wit, generosity and courage and she exposes what life was like in her gilded cage, revealing the role of her great friendship with Princess Margaret, and the freedom she can now finally enjoy in later life. She will appear as a character in the new series of The Crown this autumn. Read More
Reviews
Anne Glenconner has written a remarkable memoir - containing, at last, a genuine portrait of Princess Margaret from one who knew her well. But this book is poignant too, and through the pages shine her courage and good-humoured acceptance of her demons and tragedies.
I couldn't put it down. Funny and touching - like looking through a keyhole at a lost world.
'Remarkable . . . If your jaw doesn't drop at least three times every chapter, you've not been paying proper attention'
Lady Glenconner's life story is a combination of royal magic, personal tragedy and resilient survival. With humour, courage and preternatural poise, she at last tells the story of her uniquely fascinating life.
Events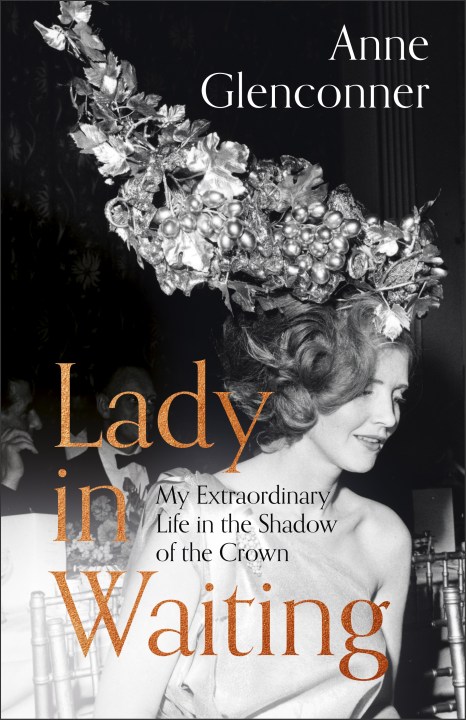 An evening in the company of Lady Glenconner
The Assembly House, Norwich
27th Nov 2019 6:30 pm
Jarrold invites you to join us for an evening in the company of Lady Glenconner, amid the splendour of The Assembly House. We are delighted to celebrate the publication of her new book, Lady in Waiting. Lady Glenconner was brought up at Holkham Hall and has spent her life as a friend of the royal…