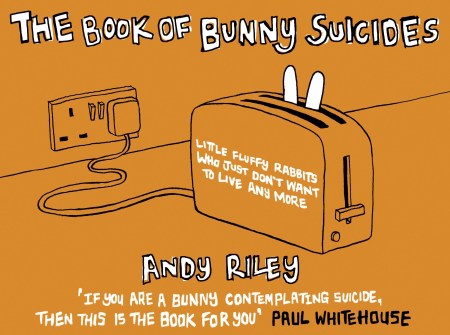 The Book of Bunny Suicides
Wickedly ingenious and surreal ideas for all the little fluffy rabbits in this world who just don't want to live anymore, with bonus material from Andy Riley's sketchbook.
Read More
Reviews
It's the funniest, bunniest book I've ever read!
Brilliantly researched - one of the most important books of the year
The most moving account of rabbit related depression I can recall reading. It will stay with me in my toilet for a long, long time. The only time the phrase "not a happy bunny" has made me laugh.
At last, a British Gary Larson. But without the other animals.
Watership Down for the deeply sick. Very imaginative, very funny, very worrying if you're the author's mother.
If you are a bunny contemplating suicide, then this is the book for you.
Inspired, ingenious...fiendishly funny