Maame pre-order prize draw
BE THE HEROINE OF YOUR OWN LIFE.
To celebrate publication of the most powerful debut of 2023, we are giving you the chance to win a fabulous bundle of goodies from some of Hodder and Media Hive's favourite Black-owned businesses, worth over £200! 
Find your Maame-inspired power outfit with a £150 voucher for Farai London, and pamper yourself with a bespoke made gift box of bestselling beauty goodies from Amí London!
Every entrant will also receive an exclusive Maame tote bag.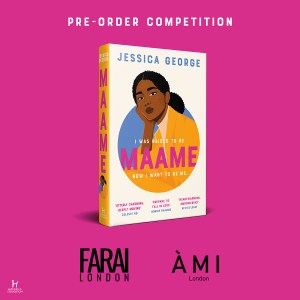 All you need to do is order your copy of Maame by Jessica George from your chosen retailer, and upload your proof of purchase int he form below. Good luck!
This is a story of identity. This is a story of belonging. This is a story of becoming who you're meant to be. 

Meet Maame.
'Lively, funny, poignant . . . Prepare to fall in love with Maddie. I did!'
BONNIE GARMUS, Sunday Times bestselling author of Lessons in Chemistry
'Utterly charming and deeply moving . . . Maddie's journey will resonate with anyone who's had to grow up – or who's still trying to'
CELESTE NG, New York Times bestselling author of Little Fires Everywhere
'I loved every page of this beautiful, heartwarming, empowering book. An exceptional debut from an incredibly exciting new talent'
BETH O'LEARY, Sunday Times bestselling author of The Flatshare
PRE-ORDER YOUR COPY NOW:
Order your copy independent bookshop exclusive edition from Bookshop.org here.

Order your copy from Amazon here.

Order your copy from Waterstones here.
THE INSTANT NEW YORK TIMES BESTSELLER.
Hilarious, honest and heartbreaking, MAAME is the most moving debut of 2023 - and a heroine you'll never forget.

*Read with Jenna Today Book Club Pick*
*Apple Book of the Month*
*A 2023 Debut of the Year as chosen by:
SUNDAY TIMES, STYLIST, VOGUE, RED MAGAZINE, INDEPENDENT, BELFAST TELEGRAPH, HUFFINGTON POST UK, POP SUGAR, HARPERS BAZAAR, MY WEEKLY, EVENING STANDARD, COSMOPOLITAN, BUSTLE*
___________________________________________________________________________

'Lively, funny, poignant . . . Prepare to fall in love with Maddie. I did!'
BONNIE GARMUS, Sunday Times bestselling author of Lessons in Chemistry

'Utterly charming and deeply moving . . . Maddie's journey will resonate with anyone who's had to grow up - or who's still trying to'
CELESTE NG, New York Times bestselling author of Little Fires Everywhere

'I loved every page of this beautiful, heartwarming, empowering book. An exceptional debut from an incredibly exciting new talent'
BETH O'LEARY, Sunday Times bestselling author of The Flatshare

'One of the must-reads of the year' SUNDAY TIMES
----------------------------------------------------------------------------------------------------
Maame (ma-meh) has many meanings in Twi, but in my case, it means woman.

Meet Maddie Wright.

All her life, she's been told who she is. To her Ghanaian parents, she's Maame: the one who takes care of the family. Her mum's stand-in. The primary carer for her father, who suffers from Parkinson's. The one who keeps the peace - and the secrets.

It's time for her to speak up.

When she finally gets the chance to leave home, Maddie is determined to become the kind of woman she wants to be. One who wears a bright yellow suit, dates men who definitely aren't on her mum's list of prospective husbands, and stands up to her boss's microaggressions. Someone who doesn't have to google all her life choices.

But when tragedy strikes, Maddie is forced to face the risks - and rewards - of putting her heart on the line.

But will it take losing everything to find her voice?

As blisteringly funny and achingly relatable as its heroine, MAAME is an unforgettable coming-of-age story about finally becoming the heroine of your own life.
----------------------------------------------------------------------------------------------------
EVERYONE IS TALKING ABOUT MAAME:
'Tender and compelling from the word go, Maame is one of the year's most anticipated books' STYLIST
'A poignant and heart-warming coming of age story' RED
'George's novel is a deeply moving one, packed with heart and sparkling prose' HARPER'S BAZAAR
'Moving, funny, poignant and completely unforgettable, you'll love this beautiful coming of age tale' MY WEEKLY
'Funny, resonating and uplifting, Maame is going to be big in 2023' EVENING STANDARD
'An accomplished debut from a talented writer' PRIMA