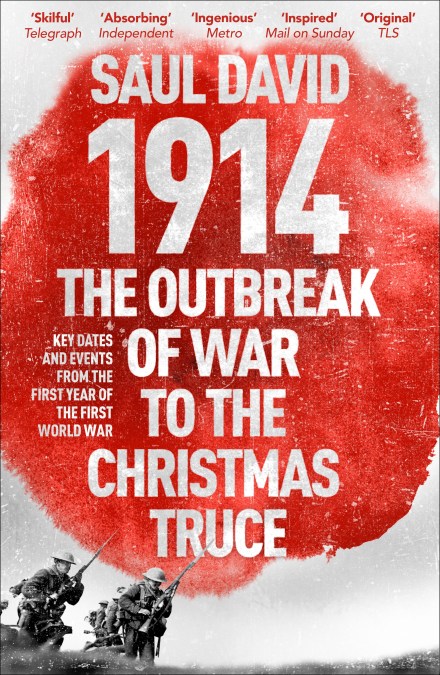 1914: The Outbreak of War to the Christmas Truce
This special ebook has been created by historian Saul David from his acclaimed work 100 Days to Vistory: How the Great War was Fought and Won, which was described by the Mail on Sunday as 'Inspired' and by Charles Spencer as 'A work of great originality and insight'. Through key dates from 4 August 1914, when Britain declared war, to the Christmas Truce of 24 December 1914, Saul David's gripping narrative is an enthralling tribute to a generation of men and women whose sacrifice should never be forgotten.
Read More
Reviews
Splendidly well written - fluent, engaging, well paced and, despite the grim subject matter, often entertaining.
A splendid read... a specialist in 19th century colonial wars and a fine writer, David has intelligently boiled down recent scholarship on the war.
Original and effective...Professor David exceeds the reader's expectations...one of the best measured accounts.
David picks out 100 individual days from the war that allow him to paint the entire picture ... as ever, he is at his best when shells are landing and whistles are blowing.
All the really important dates are here, as well as some inspired choices ... If any book will inspire readers to investigate further, this one will.
100 Days to Victory adopts a remarkably original approach to telling the story of the First World War in an accessible fashion ... the author is gifted with acute judgement as well as accomplished narrative skills. His book offers a really admirable introduction to the conflict.
Saul David has come up with an ingenious approach... The charm of this unorthodox technique becomes clear as soon as you open the book... a remarkable book.
Absorbing because of, not despite, the harrowing detail.
A free-flowing work of great originality and insight.
Fascinating, original...vivid...brilliantly conveys the global scale of the conflict...if you usually find military history rather turgid you must read this.