We have updated our Privacy Policy Please take a moment to review it. By continuing to use this site, you agree to the terms of our updated Privacy Policy.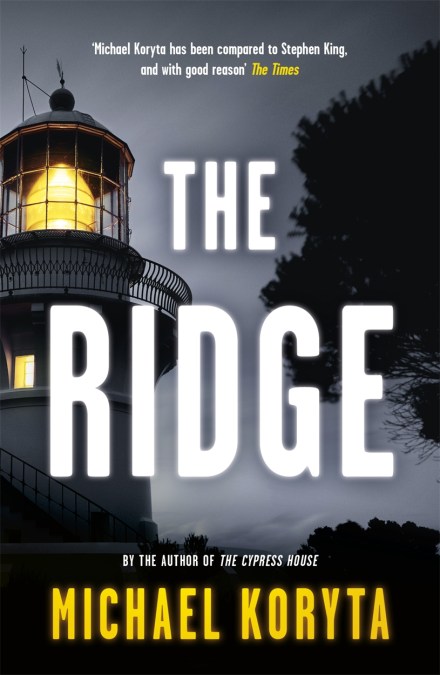 The Ridge
There is a lighthouse in Blade Ridge, Kentucky. Hundreds of miles from the sea, it illuminates nothing but the desolate, wooded hills around it. For many years the lighthouse has been a source of amusement – until its eccentric builder is found dead and his belongings reveal a bizarre and macabre local history. When her husband died, Audrey Clark swore to carry on his work of building a big-cat rescue centre. Now she is ready to move sixty-seven lions, tigers and other species into a shelter next to the lighthouse – despite some troubling developments near her new home. For deputy sheriff Kevin Kimble, a man on the brink of a very dangerous relationship, the odd beacon seems to contain disturbing proof that a long-held secret was somehow known to others. Events convince Kimble that his secret is connected to the ridge, and that a terrifying evil might be on the other side of the divide between dark and light.
Read More
Reviews
A man in love with the woman who shot him. Who could possibly resist that story? Not me. Read on, and discover one of the scariest and most touching horror tales in years.
Gangsters, a silent but heroic drifter with second sight, and a whopper of a Florida hurricane. How can you go wrong?
Koryta is a writer to watch
[Koryta] possesses an unusual gift - the ability to write a sure-fire bestseller
Koryta builds tension deftly and discreetly . . . an intricate and satisfying thriller with a very human heart to its evil
Never less than gripping and with the element of the supernatural blending strangely seamlessly with the murderous reality
Koryta's story positively breathes a sense of dread. You want to turn your head away but, of course, you can't. It's too good.
Koryta is one of the best of the best
A masterpiece of genuine chill with a cracking finish
Mixing the supernatural into crime novels is a tradition that goes back to Poe and Conan Doyle, and this tale shows just how effective it can be . . . A thrilling read
A freshly imagined and elegantly constructed variation on the dead-of-night ghost story . . . Readers are swept along by Koryta's narrative voice
A chilling supernatural thriller by rising literary star Michael Koryta
Red alert for mystery and thriller fans who like a touch of the supernatural: Michael Koryta walks this line better than anyone else I know. Fine, gripping writing that's firmly grounded in police work and the lives of real people . . . and that whispering fear always lurking.
From page one of THE RIDGE, Michael Koryta has the reader leaning forward, racing down the page, driving deeper and deeper into his creepy, pulpy tale to find out what bad thing is going to happen next. As in SO COLD THE RIVER, Koryta delivers a midwestern ghost story based on place--another roadside attraction from his haunted heartland. Reader, heed my advice: hold his hand tight. You don't want to get caught out here alone in the woods, in the night, in the dark.
Koryta delivers another supernatural thriller with punch . . . Part ghost story, part murder mystery, all thriller, this fast-paced and engaging read will have readers leaving the night light on long after they have finished the book.
'The excellent Michael Koryta has established a formula of his own... one that mixes likeable protagonists with imaginative out-of-the-way settings and a dose of the supernatural'
The excellent Michael Koryta has established a successful formula, mixing likeable protagonists with imaginative settings . . . It's a blend somewhat reminiscent of Stephen King . . . a heady, gothic brew.