Love Without End
A profoundly thought-provoking, moving novel that breathes fresh life into one of history's most remarkable and enduring love stories.

Paris in 1117. Heloise, a brilliant young scholar, is astonished when the famous, radical philosopher, Peter Abelard, consents to be her tutor. But what starts out as a meeting of minds turns into a passionate, dangerous love affair, which incurs terrible retribution.

Nine centuries later, Arthur is in Paris to recreate the extraordinary story of Heloise and Abelard in a novel. To his surprise, his daughter visits and agrees to help, challenging his portraits of a couple who seem often inscrutable, sometimes breathtakingly modern. It soon emerges she is on her own mission to discover more about her parents' fractured relationship – and that Arthur's connection to his subject is more emotional than he cares to admit.

(P)2019 Hodder & Stoughton Limited
Read More
Reviews
A tour de force - a moving, poignant, compelling tale, wonderfully told. I have never read such true and compellingly depicted accounts of sexual desire and encounter, and Paris, both medieval and modern, comes vividly before one.
Melvyn Bragg brings a fascinated attention to the moral complexities of a love story we all thought we knew, but perhaps did not understand well enough. His compassion for Abelard and Heloise makes brilliantly real and present to us their anguished journey from erotic excess towards the mystical sublime.
Bragg brilliantly re-imagines the legendary love story of Heloise and Abelard, uniting the Middle Ages and today in this thrilling novel.
Bragg has mastered his sources, chiefly the letters of Abelard and Heloise and Abelard's autobiographical Historia Calamitaturn. By the pen of Arthur the novelist, Bragg with his own flair and perceptive imagination tells their story . . . Bragg's ability to live inside the minds of these two mighty philosophical and theological intellectuals. He understands their agonies, their manipulation . . . and persecution . . . Bragg writes his version of this life-long love with ease and confidence. It is a pleasure to read; and to be reminded of Chaucer's fastidious Prioress whose shining gold brooch declares: "Amor vincit omnia."
Events
Melvyn Bragg at Buxton International Festival
Buxton
20th Jul 2019 10:00 am
Lord Bragg is one of our best-known and most respected broadcasters. Love Without End is his new novel about one of the most remarkable love stories in history - the passionate, enduring romance between two of the greatest scholars of the 12th century - and its resonance in the 21st century. Heloise is a reputed…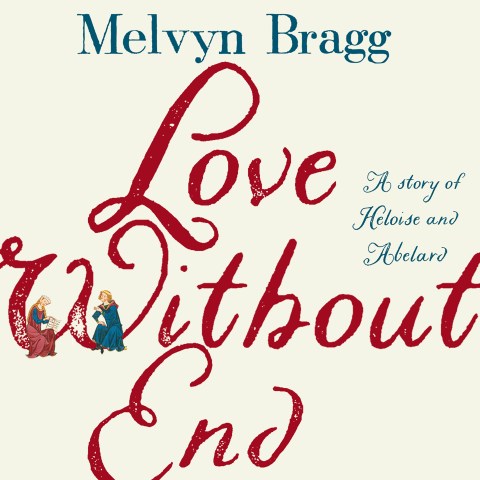 Chiswick Book Festival
Chiswick
14th Sep 2019 2:30 pm
No fee as they donate all proceeds to charity. Can contribute towards accommodation and travel