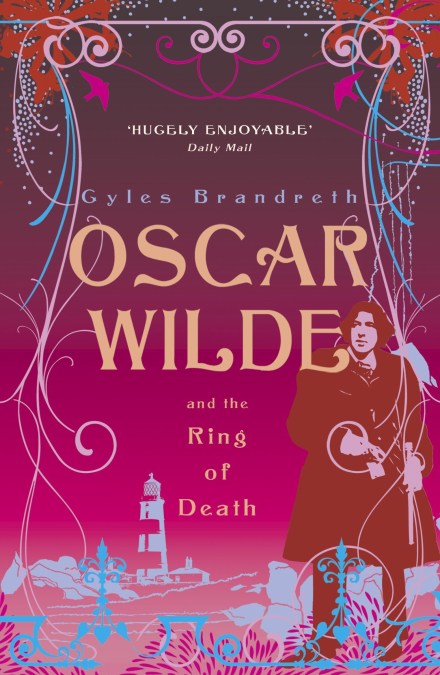 Oscar Wilde and the Ring of Death
'I see murder in this unhappy hand…' When Mrs Robinson, palmist to the Prince of Wales, reads Oscar Wilde's palm she cannot know what she has predicted. Nor can Oscar know what he has set in motion when, that same evening, he proposes a game of 'Murder' in which each of his Sunday Supper Club guests must write down those whom they would like to kill. For the fourteen 'victims' begin to die mysteriously, one by one, and in the order in which their names were drawn from the bag…With growing horror, Wilde and his confidantes Robert Sherard and Arthur Conan Doyle, realise that one of their guests that evening must be the murderer. In a race against time, Wilde will need all his powers of deduction and knowledge of human behaviour before he himself — the thirteenth name on the list — becomes the killer's next victim.
Read More
Reviews
It's all mid-morning bracers, detections based on the shininess of shoes, hansom cabs and gems like "work is the best antidote to sorrow" as we gallivant around 1890's London. Wilde is a tough subject to make boring, but this is great escapism
'Wickedly imagined and wildly entertaining'
'He has won great acclaim for his series of Oscar Wilde Murder Mysteries ... as witty and entertaining as his hero, Gyles is renowned for his charisma and charm'
'Give a big, fat, sloppy kiss to the Oscar Wilde Murder Mysteries, a sharply-written, deeply urbane and ongoing series'
'Gyles Brandreth has done a great job with this continuing series...I'm wild about Wilde'
'One of the most enjoyable (series) around'
'A carnival of cliffhangers and fiendish twists-and-turns'
'Wickedly imagined and wildly entertaining series'
'That curious, uneasy shadowland of late Victorian London, where Society, Art and Popular Entertainment overlap, is richly evoked, and the details of Wilde's life are mentioned by Sherard ... in a perfectly natural, convincing manner: the man he presents to us is both the authentic Oscar and the authentic amateur sleuth'
'Brandreth characterises Wilde with great finesse and provides an unconventional and languid narrative to match'
'Utterly charming caper of murder and wit . . . my reader loves them'
'Brandreth writes with a light touch, but conveys a sense of the moral hypocrisy and oppressive class system of the time. What raises this book several notches above most mysteries is the authentic historical detail and the engaging portrait of Wilde ... sparkling bits of wit and wisdom'
'The last novel I read was The Oscar Wilde Murder Mysteries ... it was very good'
'Plenty of cliff hangers, and twists in the tale to keep even the most avid crime buff flicking pages 'till last in the night'
One of the most enjoyable crime series around ... He slips easily into the 21st century, does this Oscar (imagine, if you can, an even higher-wattage Stephen Fry), just as, thanks to Brandreth, we as readers are able to travel effortlessly back to join him in his own age. It is well worth the journey - and I can't wait until the next one.
'Rather fun ...Brandreth unashamedly wheels out a cast of historical characters to die for'
'Part biography and part murder mystery with a wonderful cast of historical characters'
'Terrifically well researched, it all whizzes along and the reader can have fun identifying the real Wilde's witticisms from Brandreth's'
'Sparking dialogue, as you would expect, mystery piled deliciously upon mystery, a plot with a pace and a panache and a London backdrop that would grace any Victorian theatre'
'Brandreth really has got the measure of his subject, catching the essence of the great man at almost every turn'
An amusing and satisfactorily unlikely story
'As much imaginative biography as murder mystery, this book paints a lively portrait of Wilde at the height of his fame'
'Brandreth's knowledge of fin-de-siecle London, of the social and political history of the period and, above all, of Wilde himself is most impressive. Wildean witticisms abound'
'A neat take on the big hitters in the book world just over a century ago ... Gyles is a joy to the nation'
[A] deservedly well-received series
'A clever concept spiced with great Wilde epigrams'
'Highly acclaimed Oscar Wilde murder mysteries ... richly described background of fin-de-siecle London'
'Gyles is a joy to the nation.'
'Engaging, entertaining and skilfully written'