We have updated our Privacy Policy Please take a moment to review it. By continuing to use this site, you agree to the terms of our updated Privacy Policy.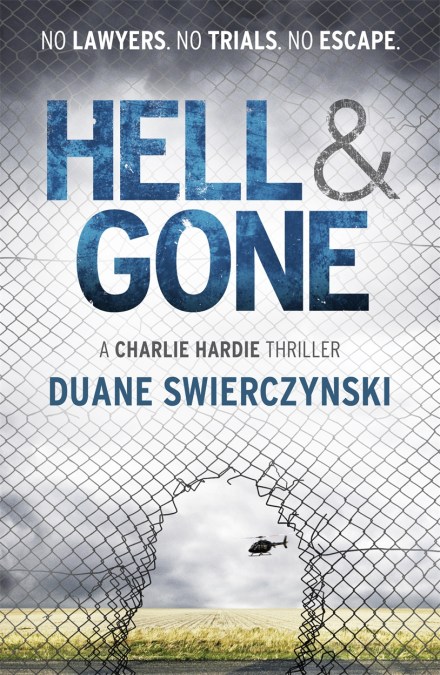 Hell and Gone
There are some criminals so dangerous the world can never know about them. They can't be held in regular prisons. They must never be released. They're here – in a secret underground prison miles away from anywhere. And now, so is Charlie Hardie. The shadowy organisation running the jail sent him there as punishment for getting in their way. But he's not a prisoner. He's in charge. He can leave any time he wants, he's told. There's just one catch: if he goes, everyone in the prison dies, including innocent guards. But when Charlie realises his family may be in danger, he knows he must protect them at any cost. Even if it means blasting his way out, one inmate at a time…
Read More
Reviews
Swierczynski steps on the gas early in this pulse-pounding contemporary thriller, the first of a trilogy, and doesn't let up...The sequel's appearance won't be too soon for many readers.
A high octane, cinematic delight that uses film techniques of fast pace and quick cuts and highly visual scenes to rivet the reader to their chair. I loved it
A hip, dead smart novel, an entertaining start to what promises to be an addictive action trilogy
Swierczynski's on a mission to find out just how insanely entertaining a thriller can be, and FUN AND GAMES is his finest accomplishment yet.
Packs enough indestructible villains to satisfy a "Die Hard" fan, and each chapter ends on a cliffhanger...Written in deadpan sentences and funny as can be, this first installment of a projected trilogy left me greedy for more.
Cool, suspenseful, tragic, and funny as hell...I haven't had this much fun reading in a long time.
A furiously paced tale that cries out to be filmed
Reads like a Quentin Tarantino movie on speed, full of high-octane action, flying by at a breakneck pace, not for the faint of heart, but also with plenty of humor