Related Categories:
Books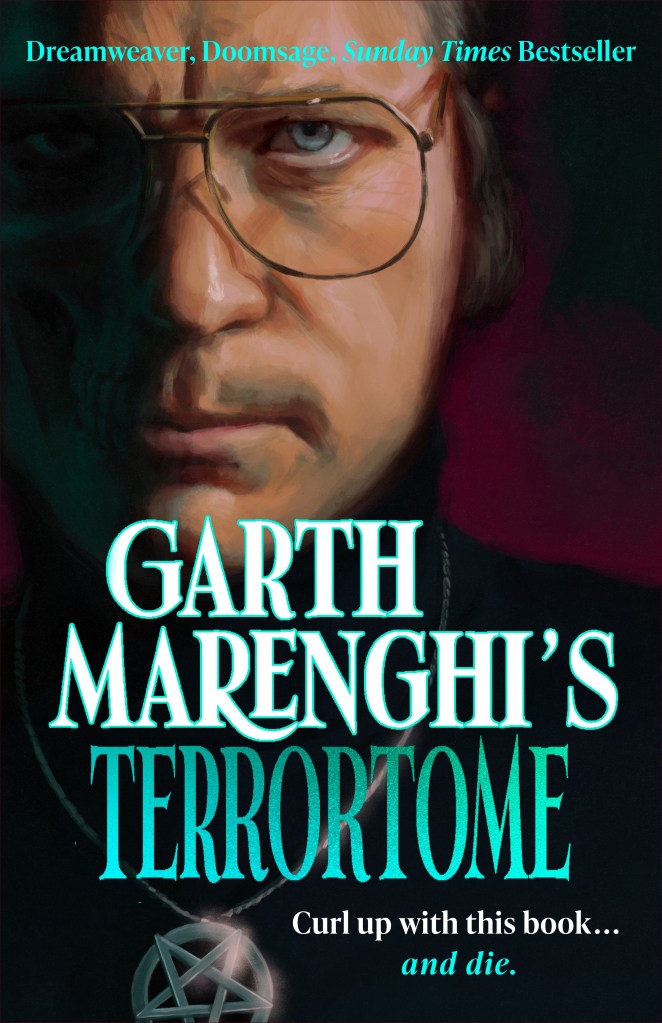 Greetings, traveller. Now that you own several copies of Garth Marenghi's TerrorTome in multiple formats, it is essential that you spread its message at assorted social gatherings (Satanic or otherwise). To that end, I, Garth Marenghi, being contractually obliged by Ken Hodder and all who cover for him, call upon you to co-ordinate a series of dedicated TerrorTome events in order to celebrate publication of the new paperback edition, and present below some themed recipes handed to me by Ken's wife, whose name I have forgotten.
Send Garth (via @HodderBooks on Twitter using the hashtag #GarthMarenghiBookClub) a photo of your gathering for the chance to win a video message from Garth to your next meeting. Terms and Conditions apply, see details below.
Terms and Conditions:
This is a prize draw to win a video message from Mr Garth Marenghi to your next Terrortome Book Club gathering at a date to be agreed. There will be one winner. The prize is non-transferrable. To enter tweet a photo to @HodderBooks of your Terrortome Book Club meeting using the hastag #garthmarenghibookclub
The winner will be selected from the entries based on fidelity to the source material  by Hodder & Stoughton whose decision will be final and no correspondence will be entered into.
The competition opens at 12:00 BST on Thursday 125th May 2023 and closes at 11:59 pm GMT on Firday 30th June 2023. Any entries received outside these specified times and dates will not be eligible for entry into the competition.
The competition is open to residents of Great Britain aged 18 years or over, except employees of the Company, their families, or anyone professionally connected to the prize draw either themselves or through their families.
Only one entry per person allowed. Second or subsequent entries will be disqualified. Entries will not be accepted via agents, third parties or in bulk.
The Company is not responsible for contacting or forwarding prizes to entrants who provide unclear or incomplete information or for entries lost, misdirected, delayed or destroyed.
The Company reserves the right to alter the prizes or cancel the competition without notice but will try to avoid creating any undue disappointment.  No cash alternatives to prizes will be provided.  If a winner is unable to accept their prize or cannot be contacted, the Company reserves the right to select another winner.
The Company will make available the name and county of the winners to anyone who requests this information by writing to the Company at the address shown below.
The Company is the data controller of Personal Data that it collects in the course of running the prize draw and will use the Personal Data in accordance with the Company's Privacy Notice https://www.hodder.co.uk/imprint/hodder/page/privacy-notice-general-hs/ It will use such Personal Data for the purposes of running the prize draw and delivering any prize(s) and will delete it after a reasonable period from the end of the competition. "Personal Data" means names of entrants and other details provided by them (e.g. email addresses, telephone numbers) for the prize draw.  The Company will not share such Personal Data with any third parties except for the purpose of delivering the prize.
By entering the competition entrants agree to be bound by these terms and conditions.
This competition is being organised by Hodder & Stoughton, Limited of Carmelite House, 50 Victoria Embankment, London EC4Y 0DZ ("Company").
These terms and conditions and any disputes or claims (including non-contractual disputes or claims) arising out of these terms and conditions shall be governed and construed in accordance with the laws of England, whose courts shall have exclusive jurisdiction.
Dare you crack open the TerrorTome? (Mind the spine)

When horror writer Nick Steen gets sucked into a cursed typewriter by the terrifying Type-Face, Dark Lord of the Prolix, the hellish visions inside his head are unleashed for real. Forced to fight his escaping imagination - now leaking out of his own brain - Nick must defend the town of Stalkford from his own fictional horrors, including avascular-necrosis-obsessed serial killer Nelson Strain and Nick's dreaded throppleganger, the Dark Third.

Can he and Roz, his frequently incorrect female editor, hunt down these incarnate denizens of Nick's rampaging imaginata before they destroy Stalkford, outer Stalkford and possibly slightly further?

From the twisted genius of horror master Garth Marenghi - Frighternerman, Darkscribe, Doomsage (plus Man-Shee) - come three dark tales from his long-lost multi-volume epic: TerrorTome.

Can a brain leak?
(Yes, it can)

-------------------------------------------

'Reads like Garth's classic oeuvre of paperback horrors crossed with the X-Files, Faustian myth and bits of Manimal. Plus the cover is embossed with genuine foil at his insistence and at your expense'
Ken Hodder, Head of Hodder

'These three tales of terror by Garth Marenghi are... quality'
Queen Fang, NosFor(at)um.com

'A strong beginning, deepening intrigue and a knockout ending'
How to Write Magazine