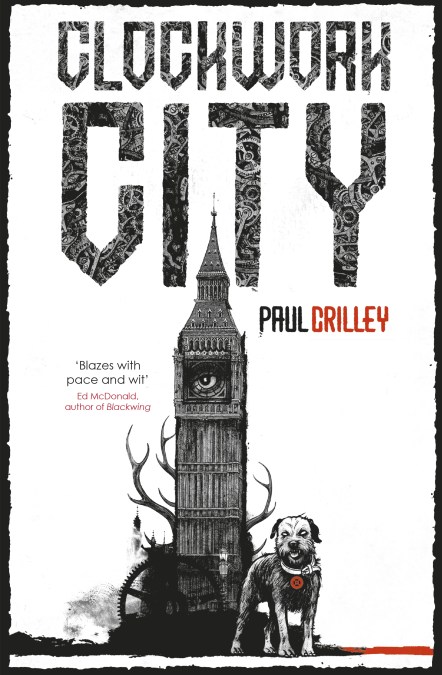 Clockwork City

The fog-choked sequel to Poison City, about which Claire North raves, 'Rarely has policing the apocalypse been so awesome!'

Cop. Drunkard. Low-grade magic user.

My name is Gideon Tau, but most people just call me London. (Because that's where I'm from. Get it? Hilarious.) Three years ago, someone killed my daughter. I sacrificed everything (the human race included) to learn his name – and then had to allow that knowledge to be erased from my mind in order to save the world I'd doomed. Fantastic.

Now I have to start over from scratch, and who do I have to help me find my daughter's killer? The reanimated corpse of my boss, a low-rent P.I. who's heavily into conspiracy theories, and my alcoholic, foul-mouthed demonic sidekick dog.

Our journey will take us from Durban, South Africa to London, England, where we'll have to contend with Fae gangs fighting for territory, the murder-suicide of two Delphic agents and the seven deadly sins.

Oh, and did I mention planning a heist to break into the most secure bank in Faerie? Because that's on the agenda too. And if we fail? An ancient horned god will destroy London. (The city, not me. Although, to be fair, I don't think I'll survive either
Read More
Reviews
Steeped in sun, sin, whiskey and magic, I devoured Poison City. Rarely has policing the impending apocalypse been so awesome. Sequel now!
A sarcastic, demon-fighting cop with magic dragon tattoos and an alcoholic talking dog as a sidekick... Poison City is everything you never knew you wanted in a book. Buy it now!
An early Tarantino version of an urban fantasy... The war is coming, says the cover; given this first battle, it's going to be one hell of a ride.
Blazes with pace and wit - Crilley has produced a real page turner
Crilley's magical world ain't kid stuff. If you like your spellcraft dangerous, exhilarating, and chillingly double-edged, look no further.
A hugely entertaining tale of magic cops, shady monsters and terrifying gods... It's a huge amount of fun